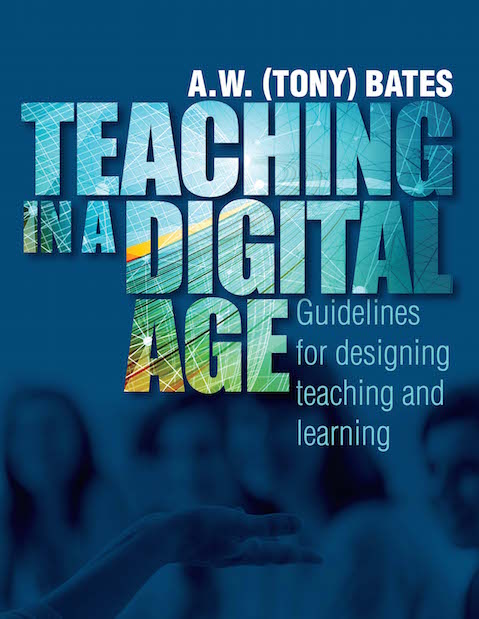 Let's say you're a teacher, and you want to know what all the fuss with education technology is all about. You don't just want to know what to use, but you want to know why you should use it, and what it can actually do for your students and for your teaching practice. You want to know the history, the theory, and some guidelines too. Where do you go for that sort of thing?
You go to Tony Bates' Teaching in a Digital Age - Guidelines for Design, Teaching and Learning! That's where you go. Personally, I'd call it the edtech bible! ...
What does Tony Say?
Having a look at the contents gives you an idea of the kind of topics this huge book delves into
Fundamental Change in Education

The nature of knowledge and the implications for teaching

Methods of teaching: campus-focused

Methods of teaching with an online focus

MOOCs

Understanding technology in education

Pedagogical differences between media

Choosing and using media in education: the SECTIONS model

Modes of delivery

Trends in open education

Ensuring quality teaching in a digital age

Supporting teachers and instructors in a digital age
Bates himself describes the book as a 'cookbook on how to teach' and states that it answers questions like:
what is the science and research that can best help me in my teaching?

what strategies work best when teaching in a technology-rich environment?

how do I make choices among all the available media, whether text, audio, video, computer, or social media, in order to benefit my students and my subject?

how do I maintain high quality in my teaching in a rapidly changing learning environment while managing my workload?

the book examines the underlying principles that guide effective teaching in an age when everyone, and in particular the students we are teaching, are using technology.
If you have ever asked any of these questions, then this is the book for you, provided that it does actually answer those questions.
SPOILER ALERT: It does!!
Why is this needed?
In our current age of teaching, educators are swamped with education technology tools. In one of my first posts, where I mentioned a chat I had with the creator of Edshelf, Mike Lee, it came out that most edtech databases list around 5,000 tools, only 10% of the roughly 50,000 out there, and more are being created every day. This book gives you the tools to decide which tools are best for you by allowing you to analyse your own teaching and learning environment. It also puts things in perspective, by discussing, with the use of scenarios, the current state of education, and how we just cannot teach the way we have been doing for the last few hundred years anymore. It also arms you with a good list of things to look out for in your teaching with pros and cons. I won't spoil it for you by going into too much depth about each thing, but I will discuss the three topics which I found extremely useful, which are history, theory and the three Ms, Method, Models and Modes of use.
History
I've already written a blog post on the history of education technology, but in a comprehensive book like this, it is so important to put everything that is stated into perspective. The history section does this quite well. Covering topics like oral, written and broadcasting communication which came before the computer age. When it comes to discussing the computer age, it is further separated into the different progressions, giving the idea of exactly how important it is and where we can go to next. It's always good to think ahead.
Theory
A section like this was a godsend for me as a researcher. Bates was able to discuss all the theories in relation to education technology use with detailed explanations, enough to convince all those that feel that technology should have no place in the classroom. The author starts with objectivism, which discusses the absolution of knowledge and teaching as a way of transferring knowledge from the all knowing teacher to the open, empty vessel that is the student. Also discussed, is behaviourism, where the Skinner machine is mentioned and then Bates introduces, cognitivism, constructivism, and finally connectivism, the most relevant for our current age of social media, Wikipedia and mobile phones. For the beginner in educational theory, this is enough to give you a good insight into how it underpins everything educators should be doing, and why.
Methods/Models/Modes of use
The methods of use contained in the book are the reason why it is so important. It discusses methods of teaching with a campus focus and an online focus, discussing origins, tools and models, which would arm any college or university educator, and a good few pre-tertiary educators too. Bates covers Massive Open Online Courses (MOOCs), which are being used by an increasing number of universities. He goes through the history of them as well as pros and cons in great detail.
One of the most difficult things educators are faced with right now, is how to choose edtech tools. Bates provides information of the SECTIONS model, which represents the eight things educators should think of when deciding on tools that should be used in their teaching. These are, Students, Ease of use, Cost, Teaching and media selection, Interaction, Organisational issues, Networking and Security and privacy.
For a teacher new to online technologies, the different modes can be quite confusing. There are quite a few terms that need to be understood and compared. For example, Online learning, blended learning, flipped learning, hybrid learning, flexible learning, open learning and distance learning, which are often used to represent the same thing, but are actually different from each other. A good understanding of each is important, and Bates explains each one in the context of the continuum of technology-based learning, which has face to face on one end, fully online on the other and the ones above spread around in the middle.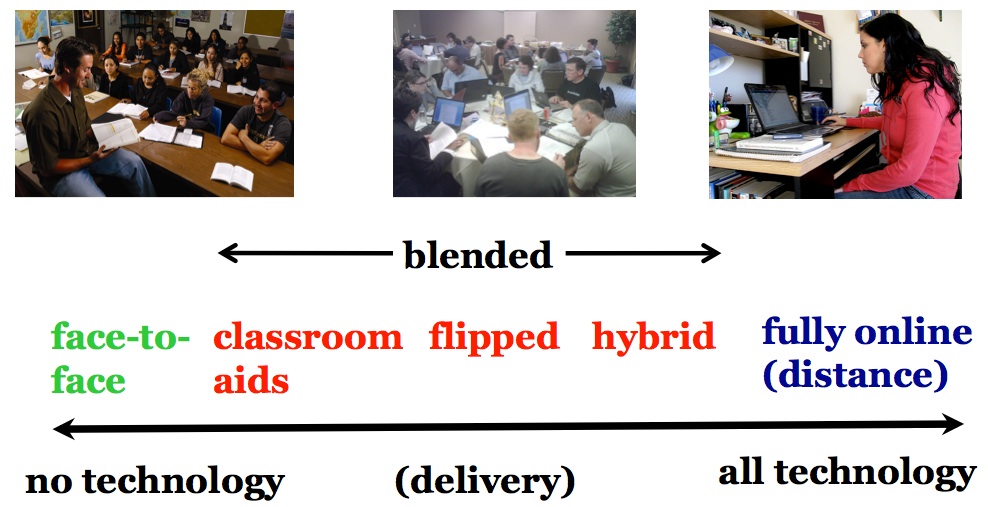 Overall
This book is huge. With so much information it can be a bit of information overload. It has something for a range of different educators, and guides for beginners or advanced edtechers alike. I think it's important that all educators who want to improve their edtech use read this. I would actually go one step further and say every educator no matter what kind, should read this and use it in their craft, because soon all learners will be expecting their learning to be guided by the technology and methods discussed. Don't get left behind.
Lastly, and it's totally free!!! Not only does Bates discuss open resources in the book, but the book is an open textbook, and is available to read online. It's also available in a range of other formats, such as pdf and epub. So there is literally no excuse. Find out more about him, and read his other resources on his website https://www.tonybates.ca/.